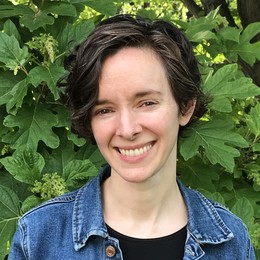 Online for the 2023-2024 School Year
Teacher: Hannah Jackson
Email: hmjackson90@gmail.com
COURSE DATES: Aug 28-May 21, with the following breaks: Nov 20-24, Dec 19-Jan 1, and a Spring Break (dates TBD).
The 2024 AP Music Theory exam will take place at noon (local time) on Wednesday, May 15.
TUITION for Credit:
$850 if payment is received before July 1; $875 effective July 1.
TUITION for Audit:
$350 (Note: the audit option gives access to the syllabus and all assignments/materials/assessments on the course website, but does not include instructor feedback, grades, or access to the live "lab" sessions.)
COURSE OBJECTIVES:
This course offers the equivalent of a first-year college course sequence in music theory and aural skills. As such, it provides students with a thorough grounding in core concepts such as harmony, counterpoint, chorale-style voice-leading, and musical structure, and also with "hands-on" training in such musicianship skills as sight-singing, interval and chord recognition, and melodic and harmonic dictation. Students will learn to analyze written and performed music, to understand the composer's techniques as they relate to melody, harmony, phrase structure, and texture, and to describe these phenomena with a sophisticated musical vocabulary. We will focus on Western tonal music of the common-practice period (the Baroque through early-Romantic eras), as this is the music that generated and best exemplifies the theory concepts covered in this class.
Along the way, this course will prepare students to take the College Board AP Music Theory exam. Students who score well on this exam may be eligible to receive college credit, and/or placement in a higher-level music theory class in college (depending on the policy of that institution).
WHO SHOULD APPLY?
High school students who are prepared to do college-level work, have a background in music, and are currently engaged in formal music instruction (private instrumental/vocal lessons, choir, orchestra, etc.)
Students who succeed in this course are disciplined and self-driven, detail-oriented, and motivated by a hunger for understanding.
Music literacy—the ability to read music proficiently in at least one clef—is an essential prerequisite for this class.
Access to a piano, though not required, will be very helpful to students taking this course. Basic piano skills (at a minimum, the ability to play scales in different keys) are recommended.
Sight-singing will be tested on the AP exam, and is something we will practice during the aural skills "labs" (scales, solfege drills, sight-singing melodies, etc.) Willingness to sing is expected--and I try to make this as fun and comfortable as possible.
Prior to registration, students must submit an entrance exam and an application. Please email those documents to hmjackson90@gmail.com.
COURSE FORMAT:
This class is structured around two core components:
Written theory: coursework/materials include prerecorded video-lectures, reading assignments, and various types of homework assignments (worksheets, listening/analysis assignments, compositions, discussion board posts). Students will access and submit assignments through our class Canvas website.
Aural skills: ear-training, singing, and critical listening skills are practiced in small-group, live "lab" sessions each week. (Students are placed in a small group based on their preexisting availability; schedule TBD once registration is finalized.)
Students' progress in both areas is regularly reinforced and assessed via quizzes, module exams, aural skills workshops, and midterm/final exams. Students complete a final project (focused on analysis or composition) in the spring.
ADDITIONAL INFORMATION:
Expectations:

Time commitment: This varies widely by student, but the total workload for this class may reach 8-10 hours/week.
Attendance: Students are required to attend and participate in their weekly assigned lab session. Three "free" absences per year are permitted.
Timely submission of work: Due to the cumulative nature of the course material, I do follow a strict late-work policy. If needed, an extension may be requested before the assignment deadline. For any extension longer than one week, I require a notification from the parent. After two weeks, unsubmitted work automatically receives a 0%.
Feedback and Communication:

As a rule, I grade and return assignments to students within one week.
I usually communicate directly with students regarding their assignments, but I welcome communication from parents. Please feel free to contact me with questions and concerns.
I send students a weekly update with the upcoming week's assignments and other useful information; parents may opt to receive this email as well.
REQUIRED TEXTS:
Clendinning, Jane Piper, and Elizabeth West Marvin. The Musician's Guide to Theory and Analysis: Fourth AP Edition. New York: W.W. Norton.


If you purchase the textbook from the publisher, a promo option to add a discounted workbook for an additional $19.13 should appear in your cart: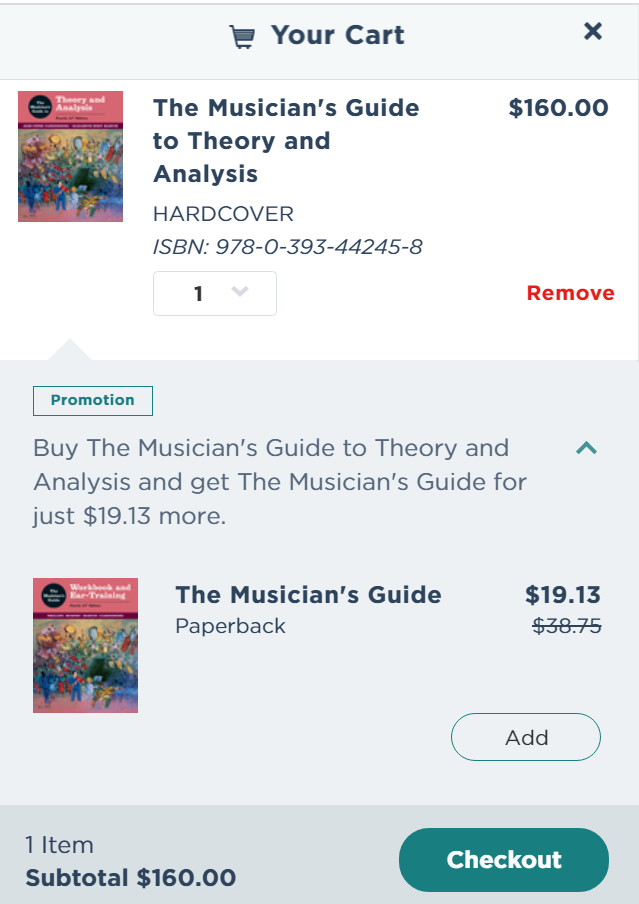 Feel free to purchase a used copy of the textbook; just be aware that the access code for the online playlist of musical examples only comes with a new textbook. While this audio playlist is optional, I believe that it's a very helpful resource and worth the investment.
Clendinning, Jane Piper, and Elizabeth West Marvin. Workbook and Ear-Training for The Musician's Guide to Theory and Analysis (Fourth AP Edition). New York: W.W. Norton.

The workbook must be purchased new.
The publisher offers a package deal when you order the textbook and workbook together. (See note with screenshot above.)
At checkout, please designate your "school" as follows: select "Pennsylvania" as your school's state, then enter "PA Homeschoolers AP Online, Kittanning" in the school name box.
Buonviri, Nathan O. 2015. Building Better Dictation Skills.

The publisher offers both hard cover and e-book options. A variety of formats (such as paper-back) are also available from other online vendors.
If you purchase a used copy, make sure the book contains no writing and that the audio CD is included.
TECH REQUIREMENTS:
We will use Zoom for our weekly live sessions. Students will need a good, high-speed internet connection.
Students will need a webcam and mic (computer built-in is fine). Audio and video participation in live sessions is required.
Students will need to scan workbook pages (or take a picture with an app like Cam Scanner) and submit in PDF format.
ABOUT THE INSTRUCTOR:
I received my degree in music theory from Temple University, where I also studied viola performance. This will be my 7th year teaching AP Music Theory with Pennsylvania Homeschoolers. I'm so grateful for this opportunity to share my favorite subject with the enterprising performers, composers, and thinkers of the homeschool community.
My background in the homeschool world extends to my own student years, as well as to my work as a tutor in various subject areas. Out of that background comes my goal for this course: to help families realize their vision for crafting a superior and singular home-education experience. While my students tend to perform very well on the AP exam (last year's average score = 4.43), my chief desire is for them to encounter the marvelously rich tradition of Classical music in a way that far outlasts the exam.
When not teaching, grading, or listening to music, I may be found improvising in the kitchen, hiking the local trails with an audiobook or podcast for company, or attending to the needs of an ever-expanding menagerie of pets.
Click here to read class reviews for this class (or post your own review)