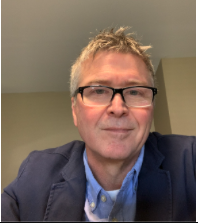 Online for the 2023-2024 School Year
Teacher: Michael Munson
Email: mjmunson719@gmail.com
AP European History 2023-24 School Year
Teacher: Michael Munson
Email: mjmunson719@gmail.com
Registration for the 2023-24 School Year is now open.
Interested students can apply by completing the Registration Form: AP European History. After reviewing your registration, you will receive confirmation that you have been added to the class roster for the 2023-24 school year. There are no further enrollment requirements and you can pursue the tuition payment process. If your registration is the 21st or later you will be informed that you have been added to the course waiting list according to the order in which your registration was received.
AP European History is a high level academic study of modern European civilization from its origins in the fifteenth century to the present. This course is the equivalent of an introductory college or university survey of modern European history. In AP European History we will explore, analyze, and understand the significance and influence of major historical developments from the late Medieval Period to the European present. In doing so, we will consistently apply the disciplinary skills necessary for a thorough understanding of how the European past has contributed to the modern world in which we live. Our goal is to build to build a robust understanding of history by learning, applying, discussing, and refining historical reasoning skills such as comparison, causation, contextualization, and continuity and change over time. In doing so, we will learn to think about the development of modern European civilization using the intellectual tools employed by professional historians.
The seven historical themes listed below are incorporated into each of the nine units of study:
Interaction of Europe and the world,

Economic and commercial development,
Cultural and intellectual development,

Emergence of nation states and other institutions of power,

Social organization and development,

The concept of national and European identity,
Technological and scientific innovations
*Note that these themes are required by the College Board with the expectation that students will gain a deep and meaningful understanding of European history by understanding historical content and making thoughtful and accurate connections among historical developments in different times and different locations.
Who should take this course? Academically motivated 10th, 11th, and 12th grade students who are interested in learning more about our world by understanding the forces that have created the modern society in which we live. Students should be willing to accept a weekly workload of 10-12 hours that will include reading, assignments, quizzes, essays, periodic collaboration with classmates on various projects, and participation in online class discussion threads.
AP European History Tuition Options:
Early enrollment: $700.00 for those who register before midnight July 1, 2023
Regular enrollment: $775.00 for those who register after midnight July 1, 2023
Enrollment: AP European History is limited to 20 students.
Course Materials:
Required Textbook: McKay, John McKay; Clare Haru Crowston; Merry E. Wiesner-Hanks; Joe Perry. A History of Western Society: Since 1300: AP Edition. 13th ed. Bedford/St. Martin's, 2020.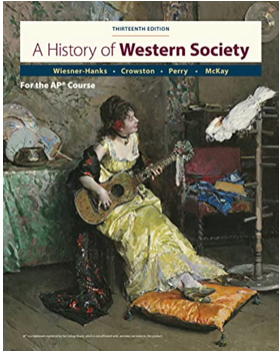 ISBN-10: 1319221637
ISBN-13: 978-1319221638
Recommended Supplement:
Barron's AP European History Premium, 2022-23 edition or newer.
Primary and Secondary Sources: Documents will be embedded in assignments or as stand-alone PDFs throughout the course.
Notebook or Digital File: A specific Notebook or digital document specifically for AP Euro to compile notes from Zoom meetings, course videos, and occasional assignments.
Technology Requirements:
Computer with high-speed internet access
Google account for email and document sharing
Document scanning ability so that you can submit written work via email or Remind text (using a smartphone or digital camera to take a picture and email or text works fine)
APClassroom (you will receive an enrollment number and instructions early in the course)
Zoom video from https://zoom.us (for the live sessions--you only need the free version)
Schoology student account (in August you will receive the class access code to join the course on Schoology at https://www.schoology.com)
The Course begins Friday August 18, 2023 with a live meeting via Zoom to introduce the AP European History Course, how Zoom meetings will be used, how Schoology works, and a brief lecture introducing course content.
The Course will end in May of 2024 with the AP European History Exam. The specific date of the exam is not yet available.
Breaks during the school year:
Thanksgiving Break: Nov. 20 - Nov. 27, 2023
Winter Break: Dec. 20, 2023 - Jan. 3, 2024
Spring Break: March 23 - April 2, 2024
Course format:
This course is generally asynchronous with assignments and assessments posted and completed on Schoology (more information is in the Monthly Assignment Calendars section below).
Live Video Sessions via Zoom: There will be a schedule of Zoom meetings determined by class consensus. My intention with Zoom meetings is to provide an opportunity for students to interact with me, and with each other, to discuss content and historical reasoning, to ask questions, and sometimes to just talk about history.
Unit Structure and general course sequence:
Our course follows the College Board's Course and Exam Description of AP European History and consists of nine specific units.
Unit 1: Renaissance and Exploration
Unit 2: Age of Reformation
Unit 3: Absolutism and Constitutionalism
Unit 4: Scientific, Philosophical, and Political Developments
Unit 5: Conflict, Crisis, and Reaction in the Late 18th Century
Unit 6: Industrialization and Its Effects
Unit 7: 19th-Century Perspectives and Political Developments
Unit 8: 20th-Century Global Conflicts
Unit 9: Cold War and Contemporary Europe
Unit guides that describe learning objectives developed by The College Board with examples of content knowledge are posted on Schoology (they are also always available on AP Classroom) at the start of each month. All coursework (including reading assignments) is directly related to the AP learning objectives for this course. Unit guides will be used by students to directly connect specific learning objectives to content provided by the textbook, class assignments, Zoom discussions, and other resources.
Monthly Assignment Calendars: At the beginning of each month assignments with due dates are posted in the course the calendar on our Schoology page. The calendar provides the sequence of assignments indicated by letter and number. For example, A1 = the first assignment in August, etc. Textbook reading assignments and AP Classroom activities also appear on the Schoology calendar. Students are expected to complete all assignments, including readings, by the due dates indicated on this calendar. Assignments should be completed in the assigned order. Assignments are to be completed and submitted by midnight the last day of the month in which they are assigned. Exceptions to the end of the month assignment completion requirement will be granted if they are requested in advance with a reasonable explanation.
Sample of how assignments are posted on the Schoology calendar:
A1: Read Ch. 12: European Society in the Age of the Renaissance
A2: Review: Later Middle Ages
A3: Renaissance Society, Culture, & Politics
A4: Watch and take notes on AP Daily Videos 1.1 through 1.4 (APC)
A5: Quiz 1, Unit 1
A6: Viewpoints: Venice v. Florence Document Analysis Etc…
Assessments and Assignments: The AP European History Exam contains multiple choice questions (MCQs), short answer questions (SAQs), a document based essay question (DBQs), and a long essay question (LEQs). Each of these types of questions are woven into course assignments so that students have a full year of consistently practicing and developing the thinking and writing skills necessary for success on the AP Exam. Unit exams and review assessments also incorporate the AP style of questioning and should be considered as direct practice for scoring well on the AP Exam. Assignments and assessments are designed to build the content knowledge and historical reasoning skills needed to successfully analyze and respond to each type of question that appears on AP exams.
Instructor Qualifications: Since 1992 I have taught multiple Advanced Placement courses (Psychology, European History, U.S. Government and Politics, World History, and United States History). Currently my syllabi are AP Audit approved by the College Board in AP European History and AP United States Government and Politics. Since 2014 I have taught a rotating schedule of AP courses online from my home in Pennsylvania. Over the years my students have performed remarkably well on AP exams as indicated by a collective mean score of 4.09 on AP exams. I am a licensed 7-12 Social Studies teacher in Pennsylvania and Minnesota with BA degrees in history and secondary education-social studies from Bemidji State University and have accumulated over 70 graduate credits in teaching history and psychology. Outside of teaching I spend joyful time with my wife, our four daughters, and grandchildren. I've spent much time traveling throughout the United States and Europe where I've taken groups students on trips through EF tours to Great Britain, Germany, Italy, the Czech Republic, and Ireland.
Click here to read class reviews for this class (or post your own review)