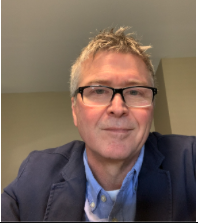 Online for the 2023-2024 School Year
Teacher: Michael Munson
Email: mjmunson719@gmail.com
AP U.S. Government and Politics
2023-2024 School Year
Teacher: Mr. Michael Munson
Enroll now for the 2023-24 School Year.
Students can enroll in this class by completing the Registration Form: AP U.S. Government & Politics 2023-2024. There are no further enrollment requirements. If you are among the first 20 students to submit your registration, you will receive an email verification of your status as an enrolled member of the course. If your registration is the 21st or later you will be informed that you have been added to the course waiting list according to the order in which your registration was received.
AP U.S. Government and Politics Course Description
AP U.S. Government and Politics is a college-level full-year course that prepares students for success on the AP Exam (in early May 2024). AP GoPo will provide students with the political knowledge and reasoning skills that are the foundation of thoughtful and meaningful engagement in processes of American politics and government. It is important to note that this course is a political science course that studies the interconnectedness of the different parts of the American political system and the behaviors and attitudes that shape this system and are byproducts of this system. The AP U.S. Government and Politics course frames the acquisition of political knowledge around enduring understandings and big ideas regarding American government and politics. Through the development of political knowledge, disciplinary practices, and reasoning processes, by the end of the course, students will be able to analyze current, and historical, political events by applying the same political reasoning used by professional political scientists.
Course Content and Big Ideas:
Course content consists of the essential political knowledge that will be synthesized in the construction of enduring understandings and big ideas about American government and politics.
Big ideas that flow through the content of each unit of study include:
Constitutionalism (CON)
Liberty and Order (LOR)
Civic Participation in a Representative Democracy (PRD)
Competing Policy-Making Interests (PMI)
Methods of Political Analysis (MPA)
Reasoning Processes:
The reasoning processes are the thought processes that facilitate connection-making and analysis in the pursuit of effectively demonstrating the disciplinary practices of political science. These reasoning processes form the cognitive bridge between the course content/big ideas and the disciplinary practices.
The reasoning processes in this course include:
Definition/Classification: Demonstrating knowledge of course concepts
Explain - Process: Explaining political processes
Explain - Causation: Explaining causes and effects of political

principles, institutions, processes, and behaviors
Explain - Comparison: Explaining similarities and differences among political principles, institutions, processes, and behaviors
Disciplinary Practices:
Disciplinary practices are the tasks students apply to the course content using the reasoning processes above. Becoming proficient in these disciplinary practices gives students the tools necessary to analyze political information regardless of the format. These practices help students develop a factually accurate, thoughtful, and well-reasoned argument or opinion about an issue related to American government and politics.
The disciplinary practices in this course include:
Practice 1: Apply political concepts and processes to scenarios in context
Practice 2: Apply Supreme Court decisions
Practice 3: Analyze and interpret quantitative data represented in tables, charts, graphs, maps, and infographics
Practice 4: Read, analyze, and interpret foundational documents and other text-based and visual sources
Practice 5: Develop an argument in essay format
AP Exam questions combine detailed course content, reasoning processes, and disciplinary practices. Class assignments will focus on the acquisition of content and the application of disciplinary practices and reasoning skills.
Who should take this course? Academically motivated 10th, 11th, and 12th grade students who are interested in learning more about the functioning of American government, democracy, and the political processes that influence the creation of public policies. Students should be willing to accept a weekly workload of 10-12 hours that include reading the textbook, assignments, assessments, essays, periodic collaboration with classmates on various projects, and participation in online class discussion threads.
AP U.S. Government and politics Tuition Options:
Early enrollment: $675.00 for those who register before midnight July 1, 2023
Regular enrollment: $750.00 for those who register after midnight July 1, 2023
This course is limited to 30 students
Course Materials

:
Course Text and Additional Resources
Required Text: Keeping the Republic: Power and Citizenship in American Politics. 9th edition (or later). CQ Press, 2019.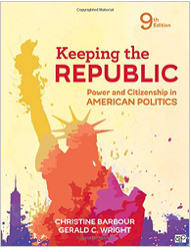 ISBN 10: 1544326033 ISBN 13: 9781544326030
Recommended Text Supplement:
*The Princeton Review: AP U.S. Government & Politics Premium, 2023 Edition
Other Resources that will be used frequently:
*Oyez.org – This online database provides succinct and accessible overviews for all Supreme Court cases.
*The National Constitution Center's Interactive Constitution (https://constitutioncenter.org/the-constitution) – This online resource is an annotated U.S.Constitution that includes essays from multiple perspectives that frame the debates underlying key clauses and provisions of the U.S. Constitution. The National Constitution Center also has a blog that applies constitutional principles to current events.
Technology Requirements:
Computer with high-speed internet access
Google account for email and document sharing
Document scanning ability so that you can upload written work or send via email if necessary (using a smartphone or digital camera to take a picture and email or text works fine)
APClassroom (you will receive an enrollment number and instructions early in the course)
Zoom video from https://zoom.us (for the live sessions--you only need the free version)
Schoology student account (in early August you will receive the class access code to join the course on Schoology at https://www.schoology.com)
The Course will begin Tuesday August 22, 2023 with a live meeting via Zoom to introduce the AP Government Course, how Zoom meetings will be used, how Schoology works, and a brief lecture introducing U.S. Gov't. and Politics content.
The Course ends in May of 2024 with the AP Exam. The specific date of the exam is not yet available.
Breaks during the school year:
Thanksgiving Break: Nov. 20 - Nov. 27, 2023
Winter Break: Dec. 20, 2023 - Jan. 3, 2024
Spring Break: March 22 - April 2, 2024
Course format

:
This course is generally asynchronous with assignments and assessments posted and completed on Schoology. Coursework, including reading assignments, are posted by month and will begin appearing on Schoology in mid August on our Schoology class site. The monthly course calendars will contain all required textbook and other readings, assignments, assessments, and indicate vacation breaks. Students are expected to complete reading and coursework in the sequence in which they appear on the monthly calendar. All monthly assignments are to be completed and submitted by midnight the last day of the month. If, or when, assignment completion issues arise, students can request an extension in advance and/or seek my advice or help.
Live Video Sessions via Zoom: There will be a schedule of Zoom meetings determined by class consensus. My intention with Zoom meetings is to provide an opportunity for students to interact with me, and with each other, to discuss content, ask questions, and sometimes to just simply talk about American politics and government. When you think about Zoom meetings for this course, know that my intention is to create a Zoom structure that works best for the class as whole and I encourage students to help me create that structure.
Course and Unit Structure in brief:
This course follows the College Board's Course and Exam Description of AP U.S. Government and Politics consists of 5 specific units shown below.
Unit 1: Foundations of American Government (4 weeks)
Students will investigate the foundations of American democracy and government to understand the purpose and function of government as it navigates the balance between liberty and order. Students will learn foundational concepts such as state, nation, politics, and sovereignty and alternative ideas of democracy. They will gain an understanding of the philosophical principles behind the U.S. Constitution and American government while considering how these principles shape important constitutional applications including limited government, judicial review, popular sovereignty, federalism, checks and balances, separations of powers, limited government and popular sovereignty.
Unit 2: Interaction Among Branches of Government (7 weeks)
Students will explore policy making process with a focus on the complexity of interaction between multiple government institutions. Students will explore issues and perspectives and apply their knowledge to expand their understanding of the creation and imposition of public policy. By analyzing the legislative, executive, and judicial powers of the national government students will acquire a complex and relevant understanding of the separation of powers and the system of checks and balances.
Unit 3: Civil Liberties and Civil Rights(6 weeks)
Students will connect the founding principles of American government to the debates over the appropriate balance of liberty and order, noting how citizens and other groups have pursued policy solutions to protect the civil liberties and civil rights of all Americans, laying the foundation for later discussion of other ways in which citizens can participate in government. The Constitution, primarily through the Bill of Rights, and the Fourteenth Amendment protect the civil liberties and civil rights of citizens, though the extent of those protections and the need to protect the safety and general welfare of individuals has long been debated. Through social movements, legal challenges, and acts of Congress, citizens have attempted to restrict the government from unduly infringing on individual rights and from denying equal protection under the law.
Unit 4: American Political Ideologies and Beliefs (4 weeks)
Connecting the application of political science methods to the development of social and economic policies that Americans support, advocate for, and adopt is foundational to understanding the ideologies of political parties and patterns of political participation. American political beliefs are shaped by founding ideals, core values, linkage institutions, and the changing demographics of citizens. These beliefs about government, politics, and the changing role in the political system influence the creation of public policies.
Unit 5: Political Participation (6 weeks)
Students will come to understand the many ways that they can influence policy-makers and impact the decisions that will affect their daily lives.
The principle of rule by the people is an essential foundation of the American political system and requires that citizens engage and participate in the development of policy. Under the Constitution, governing is achieved directly through citizen participation, although there are institutions that inform, organize, and mobilize support to influence government and politics. These linkage institutions provide many venues for citizen influence on policy making.
Assessments and Assignments: The AP U.S. Government and Politics Exam contains multiple choice questions (MCQs) and four types of free response questions (FRQs). The FRQ types are Concept Application, Quantitative Analysis, Supreme Court (SCOTUS) Comparison, and an Argument Essay. Each of these types of questions, and the political reasoning and disciplinary practices they require, are woven into course assignments so that students have a full year of consistently practicing and developing the thinking and writing skills necessary for success on the AP Exam. Unit exams and review assessments also incorporate the AP style of questioning and should be considered as direct practice for scoring well on the AP Exam.
Instructor Qualifications: Since 1992 I have taught multiple Advanced Placement courses (Psychology, European History, U.S. Government and Politics, World History, and United States History). Currently my syllabi are AP Audit approved by the College Board in AP European History and AP United States Government and Politics. Since 2014 I have taught a rotating schedule of AP courses online from my home in Pennsylvania. Over the years my students have performed remarkably well on AP exams as indicated by a collective mean score of 4.09 on AP exams. I am a licensed 7-12 Social Studies teacher in Pennsylvania and Minnesota with BA degrees in history and secondary education-social studies from Bemidji State University and have accumulated over 70 graduate credits in teaching history and psychology. Outside of teaching I spend joyful time with my wife, our four daughters, and grandchildren. I've spent much time traveling throughout the United States and Europe where I've taken groups students on trips through EF tours to Great Britain, Germany, Italy, the Czech Republic, and Ireland.
Click here to read class reviews for this class (or post your own review)