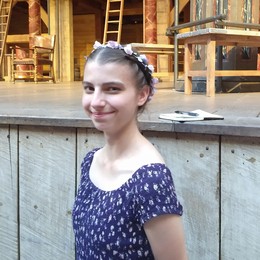 The Tempest for Summer 2023
Teacher: Sarah Richman
Email: sarah.c.richman@gmail.com
Shakespeare: The Tempest
The Tempest by William Shakespeare was given the pride of place as the opening title in the First Folio of 1623. But what makes this, Shakespeare's last solo-authored play, so uniquely important? What makes it a useful vantage point from which to consider the rest of Shakespeare's oeuvre? This course will seek to answer these questions. The Tempest is both Shakespeare's swan song and an exemplary 'late play.' It is grounded in King James I's court, the Atlantic, the Mediterranean, and Ireland as it reflects on issues ranging from deforestation to dreams. In this course we will perform a close reading of The Tempest, taking it as an exemplar of Shakespeare's art, and contextualizing the play within both his world and ours. This course is ideal for students with prior experience in high school level English who would enjoy learning (or using prior) skills in close reading and hands-on approaches to literature. However, no prior experience with Shakespeare is necessary; the course is designed to give an introduction to reading the Bard of Avon.
Course objectives:
Students will explore Shakespeare's context in terms of dramaturgy, original practice theater, contemporary literature, and history

Students will become comfortable with basic features of early modern dramatic English

Students will develop their close reading abilities, applicable to Shakespeare and the advanced study of literature more broadly

Students will identify and interpret Shakespeare's meter, enjambment, prose, puns, rhyme, imagery, motifs, and other poetic devices

Students will perform Shakespeare, both scripted and with a short memorized passage

Students will discuss the major themes of

The Tempest

such as theatricality, harmony, colonialism, good governance, nature, magic, science, and women's roles.
This course runs for three weeks from June 12th to June 30th and is worth a quarter credit. Activities will include daily readings, memorization of a brief passage of the student's choice, asynchronous discussion questions, in-class dramatization via video chat, and film viewings. Most of the course will be asynchronous with some synchronous, but not mandatory, meetings. Class will meet synchronously each Friday at 2:00 PM EST to participate in an experimental archeology exercise in original practice theater and watch a filmed version of the play. If a student is not able to make these times, asynchronous equivalents will be made available. No application is required to take this course and course tuition is $150.
The minimum number of students for this course to run is 5. The maximum number of students for this course is 15.
About the teacher:
Sarah Richman is an honors English and Medieval and Renaissance Studies double major at the College of William and Mary graduating Spring 2023 and a member of the national honorary society in Medieval and Renaissance Studies, Alpha Delta Gamma. Her honors thesis explores deforestation in Shakespeare, with an emphasis on The Tempest. Sarah has presented research papers on early modern literature at Conjuring the Past at Penn State University, Crossing Boundaries: Intellectual and Cultural Exchange between the Past and the Present at William and Mary, Medieval-Renaissance Conference XXXV at UVA Wise. She has loved Shakespeare since she was very small.
Click here to read class reviews for this class (or post your own review)