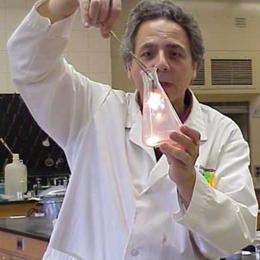 Online for the 2023-2024 School Year
Teacher: Peter Moskaluk
Email: moskaluk@chemadvantage.com
REGISTRATION IS NOW CLOSED FOR THE 2023-2024 SCHOOL YEAR!
However, I understand that there are sometimes special circumstances that prevent a student from enrolling in my course at the start of the academic year. Therefore, I keep a few spots open for serious STEM students who can demonstrate that they have what it takes to excel in my rigorous, fast-paced course. Students must be mature, self-disciplined, motivated, and committed to doing whatever it takes to be successful. They must have exceptional time-management and organizational skills and must be ready to dedicate at least two hours a day for chemistry. To ensure that students have the necessary academic skills and background to succeed in my course, they must have completed a first-year chemistry course, Algebra II, and least one AP course. To be considered for late registration, click on "Contact Us" for the email address.
---
Course Tuition (includes 1-Year Subscription to Cengage's WebAssign Online Learning Platform)
Course Schedule: My AP Chemistry course begins on Monday, August 28, 2023, and ends on Monday, May 6, 2024 (AP Exam). My 36-week schedule is designed to cover all 9 Units in the College Board AP Chemistry curriculum efficiently and thoroughly in a logical sequence with time for a comprehensive 4-week review before the AP Chemistry exam. You can read the full course description on my website www.chemadvantage.net.
There are no summer assignments for my course. I review first-year chemistry concepts before getting into the AP-level material. At the beginning of each new chemistry topic, I assume no prior knowledge and cover the basics. The following excerpt from one of my student reviews (Hannah S.) sums it up nicely.
"… The first few problems in any WebAssignment would be easy, and then the concepts build on each other throughout the assignment until you get to these really complex concepts. The great thing is, by the time you get to the complex problems, they don't feel hard because you did all the preceding stuff. I love this "learn by doing" approach."
Eligibility Requirements: Students must be self-disciplined, well-organized, and able to schedule a minimum of 10 - 12 hours a week for the course, not including lab work. The course is open to 9th - 12th-grade students, ages 14 – 18, who have completed Algebra II. Because I cover the basics at the beginning of each new chemistry topic, a previous high school chemistry class, while helpful, is not required for my course.
How to Enroll: An application is not required for my course. If you meet the above eligibility requirements, you may register for the course by paying the tuition to AP Homeschoolers. Once you have paid the tuition, be sure to fill out my Student Registration Form and I will add you to this year's student roster.
Textbook: I will provide a digital version of each chapter in the textbook that focuses on the material relevant to the AP Chemistry exam. Students who would like a hard copy textbook can purchase Chemistry, 11th Edition, by Raymond Chang and Kenneth Goldsby, ISBN-13: 978-0077666958, or any version of Chang's Chemistry textbook from the 9th through the 13th editions. The differences between hard copy editions are mostly cosmetic, so you may use pricing as your guide. You do not need to purchase supplemental materials such as CDs, study guides, workbooks, solutions manuals, or review books for this course.
Course Supplies:
Student Study Planner
Two 3" 3-ringed binders
One set of 20 blank divider tabs for filing course materials
Spiral notebook for notetaking
Graphing calculator
Quality Science Labs Advanced MicroChem Kit ($269.30) **
One 1 ½" 3-ringed binder for filing lab instructions
Lab Notebook - One 100-Sheet composition notebook with sewn binding
** The retail price for QSL's Advanced MicroChem Kit, designed for AP Chemistry and first-year college, is $299.30. QSL is offering my students a $30 discount. You can purchase the kit at the start of class when I give you the discount code.
Course Description:
My online AP® Chemistry course has been audited and approved by the College Board for 17 consecutive years. I continuously update my course to stay in sync with the curriculum requirements for the AP® Chemistry exam. Teachers whose courses have been approved receive a renewal letter each year authorizing them to affix the AP® designation on student transcripts. Although my course prepares students to sit for the AP® Chemistry Exam, it is not just an exam prep course. It is the equivalent of a first-year college chemistry course, thus providing students with a solid foundation to support future advanced work in chemistry. According to the College Board, AP® Chemistry is critical in preparing students to be successful in 48 college majors and 84 careers. Organic chemistry courses in college are notoriously challenging, so I include a unit on organic chemistry to give students a jump start in their organic chemistry classes.
Course Delivery:
I deliver my course using three websites – the Classroom website which shows all the assignments and study aids for each chemistry unit, WebAssign® (Cengage's powerful online learning platform); and a highly interactive Discussion Board.
I have structured my course so that all assignments for a given semester are posted at the beginning of the semester allowing you to easily organize your study schedule. I will provide a pacing guide and weekly schedule by chemistry topic to help you stay on track with your assignments, but you may work ahead if you would like. When you look at my schedule for the entire year, you will see that I have "penciled in" a total of five weeks for breaks, but you may shift the dates as needed to match your vacation plans, celebrations, and observances. All materials are available 24/7, so you will never have to log in at specific times. Students like the flexibility of my course in that it does not interfere with their other classes and extracurricular activities.
All my assignments are designed to be formative so students can learn chemistry without the penalties associated with summative assessments. Assignment questions have multiple submissions (tries) giving students several attempts to "noodle out" the solution and understand the reason behind the question before submitting their final answer. Many of the questions have explanations that are presented after the first submission. This approach allows students to learn by doing. Each student has a confidential online grade book that is updated daily making it easy for students and parents to follow student progress. The letter grade for each semester's work is based on the completion of the formative assignments. The final exam grade is based on the completion of an MC review, FRQ review, and a full-length College Board AP Chemistry Exam. By the end of the year, students take every AP® Chemistry exam released by the College Board. There is no busy work in my class!
Classroom Web Site:
When you log in to my Classroom website, you will see a tab for each of the chemistry units with the pacing guide (weeks) for completion. Behind each tab, you will find a list of assignments and study aids including textbook readings, chapter summaries, and videos. You will be able to easily navigate through the chemistry units as you work on your assignments. My students say that the instructional videos I have created and curated are one of the highlights of my AP® Chemistry class. The videos on my classroom (teacher) website provide full explanations for every topic in AP® Chemistry. They are informative, but I also work hard to keep my students engaged by using humor and dazzling special effects. I have posted a few of my chemistry videos on my public website. I hope you will enjoy viewing them. You can learn more about the Classroom website and pacing guide on my website by going to my website and clicking on "Course Description".
Cengage/WebAssign®:
Student learning is guided and assessed using Cengage's online platform, WebAssign®. For over two decades, WebAssign® has been the technology choice for delivering online STEM education. WebAssign® is a web-based interactive homework assignment and testing program used by over 2600 universities, colleges, and academies. I have been involved with WebAssign® since its inception and have written thousands of customized interactive questions to evaluate student learning. My WebAssign® library of assignments with over 7,500 questions is designed specifically for AP® Chemistry.
Each topic in my course is completely covered with interactive questions. Students receive immediate feedback upon submitting an answer in WebAssign®. If the answer is incorrect, additional resources are provided to help students understand how to solve the problem correctly. For example, students can link directly from a WebAssign® question to one of my video explanations or my discussion board for additional help. The WebAssign® questions have full graphics capabilities and can be tailored for multiple-choice, fill-in-the-blank, numeric (with significant figures and units), multiple-select, and constructed responses. Many problems are complex requiring the coordination of multiple ideas in chemistry. (The 1-year subscription to Cengage's WebAssign learning platform is included in the course tuition. I will give you my WebAssign course key on the first day of class.)
Discussion Board:
You and your fellow classmates will ALWAYS be able to get personalized help using my Discussion Board, a virtual classroom, which is available 24/7. With its multi-media capabilities, I can use different tools including annotation, graphs, images, diagrams, videos, and links to other helpful resources to give students detailed answers to their questions. My virtual classroom acts as an instructional meeting place where students can stop by and chat about chemistry at any time, thus fostering a sense of community. My TAs (all of whom received a "5" on the AP exam) and I continuously monitor the discussion board to make sure that students get prompt, personalized help. Students also enjoy answering questions too! One of my TAs had this to say about my forum. "... I was surprised at how much I grew from simply answering questions! And wait till you see how Mr. Moskaluk plies himself on the forum... I greatly enjoyed simply scrolling through past questions and answers or through discussions started by other students so I could read through his highly detailed and helpful posts. I definitely felt his love of teaching come through in his responses."
Live Sessions (Zoom):
I've found that live sessions can be valuable for discussing applications of chemistry including medicine, agriculture, industry, environment, and even cooking. These sessions allow me and my students to engage in lively Q & A as I demonstrate lab experiments that they cannot do at home. To accommodate students in different time zones, I record my sessions for later viewing. I have posted a few clips from my live sessions on my website under "Instructional Media". You will hear me and my students as we discuss chemistry, but I have edited out their images to protect their identity and privacy.
Lab Experience:
I have developed a lab program with specially tailored labs for AP® Chemistry. Each experiment has complete instructions with sample data and calculations. Students use tools such as graphing programs and spreadsheets to analyze data. There is a corresponding assessment tool where students enter their data online to evaluate their results. Students must keep a lab notebook following standard protocols for a college-level chemistry lab notebook.
Instructor Qualifications:
I taught science, including Honors and AP® Chemistry, in one of the top school systems in the country for over 35 years and have been teaching AP® Chemistry to homeschoolers for 16 years. I received a BS in Science and a Master of Science Education degree at Wayne State University. I have worked with numerous National Science Foundation teacher programs. As part of my Master's program, I worked with the Fairleigh Dickinson University Lab in St Croix, monitoring coral reef oxygen respiration rates. I was sponsored by the Camille and Henry Dreyfus Foundation as a Woodrow Wilson Fellow at Princeton. While working for the National Science Foundation's Project Seraphim, I led workshops for chemistry teachers around the country, developed computer software applications for chemistry education, and hosted an international Internet Conference, CHYMNET, for chemistry educators. I have completed the College Board Institute Program for teaching AP® Chemistry and actively participate in the College Board's AP® Chemistry Teachers Community. I have written science questions for the Michigan Educational Assessment Test and the ACT Assessment® Test and have served as a reviewer for Cengage's WebAssign® chemistry question database. I have also edited articles for the Journal of Chemical Education. In 2003, I won the Presidential Scholars Teacher Recognition Award.
As a dedicated caring teacher, I am committed to delivering an outstanding, comprehensive, first-year college-level chemistry course that prepares students to excel on the AP® Chemistry Exam while also preparing them for success in college chemistry and beyond. For the past 16 years, my students have achieved significantly higher scores on the AP Chemistry Exam than the international average. My commitment to my students does not end with the AP® Exam. I have written numerous recommendations for students and am proud that they have gone on to prestigious colleges and universities around the world. These include all the U.S. Military Academies, MIT, Princeton, Harvard, Stanford, Rutgers, Cornell, Oxford University, the National University of Singapore, and most of the top US State Colleges. The US National Chemistry Olympiad (USNCO) is a prestigious chemistry competition for high school students, sponsored by the American Chemical Society. Over the years, many of my students have been local and national Chemistry Olympiad winners. I'm proud to announce that my TA, Jesse, and student, Davy, are finalists in this year's USNCO! While nearly 16,000 students participate in the local Chemistry Olympiad competitions every year, the number of students who get to compete in the US National Chemistry Olympiad is just over 1,000. This is a remarkable achievement and I'm proud of you, Jesse, and Davy!
Even though my class is online, it is important to me that my students know they have a real teacher who cares about them and will provide all the support they need to be successful on the AP® Chemistry exam and also have a competitive edge in their college chemistry courses. I take immense pleasure in helping my students master and, at the same time, experience the wonder and joy of chemistry.
I hope to see you in class this fall. It's going to be a great year!
Mr. Moskaluk
Click here to read class reviews for this class (or post your own review)